Erik Fagerberg is a recently graduated engineer within production technology working at Curt Nicolin High School as a Project Manager and Teacher. He is currently developing a mobile teaching environment intended to be used by VET/HVET centres all over Europe. As a teacher, he educates high school engineers within production technology and design, and product development.
What are your expectations for EXAM 4.0, a disruptive pilot initiative for European Vocational Education and Training (VET)?
EXAM 4.0 is a very interesting project and has the potential to deliver high quality impact regarding education for advanced manufacturing. It is essential that we work intertwined with stakeholders in order to adapt educational programs to industry 4.0. As the leader for one of the project's work packages, I believe that it is crucial to create standardizations for advanced educational VET/HVET labs.
Unfortunately, the consortium has not been able to have the partner meetings in person as planned due to the COVID-19 situation. Nevertheless, we have digitalized the project meetings so we can achieve the EXAM 4.0 goals regardless of the pandemic.
What activities are you carrying out within the EXAM 4.0 project?
Curt Nicolin High school is leading a work package aimed at Designing an Advanced Manufacturing Workshop 4.0. For instance, we are creating LAB standardizations for educational Advanced Manufacturing. The consortium has examined the requirements and demands regarding Advanced Manufacturing skills and competencies that are vital for an Industry 4.0 employee in Europe. It is essential to take advantage of the results and implement relevant skills and competencies in the future of education for Advance Manufacturing.
What does "excellence" mean to you?
Excellence is something that every organizations should strive for in order to achieve development. Globalization and digitalization are resulting in new, complex challenges. Lifelong learning for employees as well as implementation of KEY technologies are essential to create competitiveness with the intention of achieving excellence within businesses.
Why is Advanced Manufacturing 4.0 a strategic sector to further develop VET?
For learners, it is essential to know the state-of-art applications of industry in order to understand what is currently used. What is taught must match the actual requirements of today's industry; otherwise, the students must go through a time- and money-consuming transformation before having the ability to work independently. Stakeholders withhold crucial information about the actual demands in the industry. It is therefore essential that they are included in the development of VET/HVET education to provide inputs and ensure that the crucial demands of industry are answered.
Why taking part in an initiative such as EXAM 4.0?
We get a chance to enhance the education and improve the networks between VET centres, HVET centres and stakeholders in Europe. We also get the opportunity to take advantage of the knowledge acquired from the project and implement this in our own education programmes and organisation. The research regarding industry 4.0 carried out within EXAM 4.0 can be used to improve Curt Nicolin High school internally as well; we can use this information to further develop and confirm the methods of Curt Nicolin High School's institutional model, as well as in our educational programs in our strive for excellence.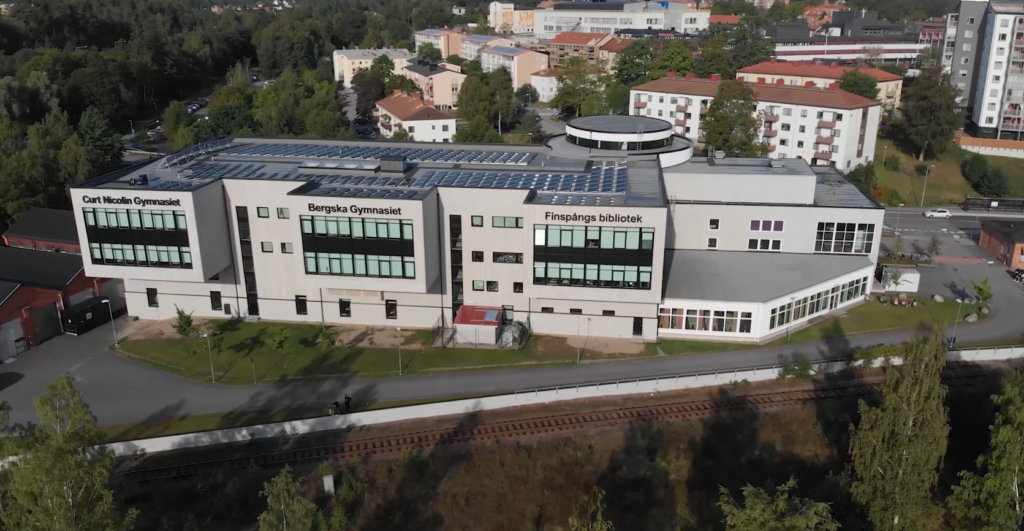 Discover other initiatives by Curt Nicolin High School

AM in a BOX
AM in a box is a not-yet created mobile education environment for Advanced Manufacturing. The purpose of AM in a box is that several parties, nationally as well as internationally within EU, should be able to use this for Advanced Manufacturing technological vocational training at different levels, to create broader knowledge regarding Advanced Manufacturing in Sweden and Europe. It will bring together education, at VET- and HVET-level, with stakeholder, such as industrial companies, to link education towards technological development and research to be able to educate the state-of-the-art technology all over Europe. The mobile education environment will achieve knowledge dissemination by traveling to schools, institutions and production sites that are lacking the knowledge or the resources to educate Advanced Manufacturing.

Digikoord
The purpose of the project Digikoord is to develop networks between stakeholders in Eastern Central Sweden. These networks intend to use existing competences and to initiate dissemination of knowledge in order to make it possible for small and mediums-sized industrial companies to take a step outside of their industrial comfort zone. The project generates opportunities for training, education, renewal and adjustment for increased competitiveness in small and medium-sized companies and industry-related enterprises in 3D/AM, in line with the new "Smart industry" industrialization strategy, focused on supplying knowledge within digitalization, industrial revolution 4.0, etc.

In a more concise way, the purpose is to "make things happen" with the existing ambition and demand on our manufacturing SMEs to try out new production technology. Active networks are essential between small, medium-sized, and large companies; it is vital that knowledge and experience disseminates between them.

For more information, visit https://www.digikoord.se/.
An interview by EARLALL. With the support of Curt Nicolin High School. The views and opinions expressed in this article are those of the authors and do not necessarily reflect the official policy or position of any official body or the EXAM 4.0 project itself.