Mr. Kees Verburg has been working at Da Vinci College and its predecessors for about 44 years in different functions, having also been involved in a number of European projects. He currently acts as a secretary to the Board. Together with his colleague Mr. Daniel Wortel, he coordinates Da Vinci's participation in the EXAM 4.0 in the project.
He underlines that "the European programme for creating platforms of centres of vocational excellence provides great opportunities for further development of VET centres into innovative eco-systems for advanced manufacturing, together with an increasing number of partners. I hope that in the next few years more partners will jump onto the bandwagon so that our platform will become THE European platform for advanced manufacturing. In that respect, I hope that the follow-up will also be funded and that other initiatives will join us rather than compete with us."
What are your first impressions about EXAM 4.0 now that the first quarter milestone has been reached?
I think it is a very interesting project, which will have a great impact on the future of advanced manufacturing and will strengthen the cooperation between European educational partners and companies. Project partners have been working very hard and with great quality. Due to the corona crisis, we have had to work online for most of the time and have had to postpone live conferences. I am confident that we will manage to achieve the goals we have set, though. So, no real fears, but lasting cooperation needs time and a sustainable budget. This is a pilot project and for the long-term further steps need to be taken so it becomes a continuing project.
What activities are you carrying out within the project?
We are contributing to the Learning Dialogues strand, which DHBW is leading. The other strands are also being prepared for a start at short notice. At the moment, we are organizing online focus group meetings with a number of companies to gather feedback on the report that is being drafted, and to reflect on future developments in advanced manufacturing (competencies required, new technology enablers, etc.). Some of the leading local companies have already let us know that they want to help.
Also, Da Vinci will lead the piloting phase of the 4.0 advanced manufacturing workshop at our Sustainability Factory. 10XL is our company partner and we are already getting the first results on the analysis from them.
Read more about EXAM 4.0 prospective project results and the Learning Dialogues strand here.
The project is named Excellent Advanced Manufacturing 4.0. What does "excellence" mean to you?
Among other things, it means that we are providing our region and the businesses there with well trained workers who are competent and capable of bringing innovation to the companies. Excellence in this respect also means that companies, (H)VET institutions, local authorities and other partners within a regional ecosystem work together to bring the regional economy forward. This project is quite significant because it is a very methodical and comprehensive way of describing the present state of advanced manufacturing and of developments expected for the future. It will also help us to define new roles for (H)VET and provide a basis for curriculum development and workshop facility building, reflecting the requirements of the future.
Why is advanced manufacturing 4.0 a strategic sector to further develop VET at regional level?
I think that the regions to which project partners belong have great concentrations of innovative companies. At Da Vinci we are already working with a large group of them in our Sustainability Factory, where we see their interaction and willingness to share instead of competing. The Factory also provides a setting for students and companies to meet, for start-ups to settle and for HVET and VET students to work together in projects. The campus development in Dordrecht has been a co-creation of Da Vinci and the local authorities in a corporation. For us, this project is a boost that will bring our business partners and ourselves closer together in innovation. The maritime industry is very important in our region, and a great number of people work in manufacturing and supply industries.
What is the added value of taking part in a joint European initiative such as EXAM 4.0?
For Da Vinci it is crucial to participate in projects like EXAM 4.0. We have called our strategic plan for 2019-22: 'Education without Borders', meaning that we are trying to remove barriers between the education and the business and industry sides, but also between regions and even countries. We feel it is quite enriching having these international contacts and the project provides the opportunity for our teachers and staff to learn from developments in, for instance, the Basque Country where there is a good cooperation between VET and companies. We are also learning a lot from our German partners and from TKNIKA through their very methodical approach in this project.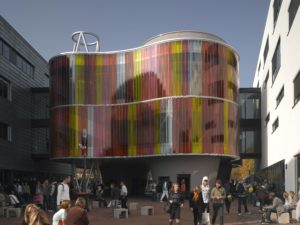 Discover other initiatives by Da Vinci College

→ EDUTrans, on energy transition, led by Da Vinci College
→ We Tomorrow tries to build bridges between students and the elderly by using VR methods
→ Future is in our Hands. In this project students from four different countries will work together to solve realistic problems that have a link with the future.
→ LAIT 4.0, about learning advanced industrial technologies (finished 2018)
An interview by EARLALL. With the support of Da Vinci College. The views and opinions expressed in this article are those of the authors and do not necessarily reflect the official policy or position of any institutional body or the EXAM 4.0 project itself.